Instructor
To register for Pilates classes, contact us. A consultation is required before taking part in open studio sessions.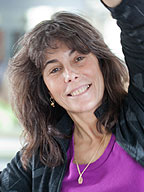 Diana H. Bower, R.N., F.N.P.
Family Nurse Practitioner, Certified Stott Pilates Rehabilitation Specialist
Diana Bower has more than 20 years of experience in nursing, family practice and internal medicine with her degree from the University of California, Davis. She began using Pilates Training in 1990 when she hurt her back and used it to help heal her injury. She trained for four years with an exercise physiologist and Pilates-certified instructor primarily concentrating on orthopedic rehabilitative work. She has been Stott Pilates certified for nearly 15 years and offers her services to a broad range of clients, including athletes and dancers who use Pilates to enhance their performances.